Fissure Sealants Brighton
Fissure Sealants for Your Family
The team at Brighton Dental Suite believes that an ounce of prevention is worth far more than a pound of cure. Your routine examinations are all about making sure that more serious dental issues can't occur in the future. When we evaluate your teeth, we'll let you know if we identify any potential concerns. If your child is our patient, we'll discuss it with you to inform you of what we have found.
By stopping any potential dental problems in their tracks now, you can prevent serious and costlier issues from occurring in the future. That's particularly important for kids so that they can show off healthy smiles for life. We offer children's dentistry and a range of services to your kids, including fissure sealants.
What Is a Fissure Sealant?
A fissure sealant is a tooth-coloured film that is applied to the molars, or back teeth, which are more prone to decay. These teeth have deep pits in the surface, which makes it easy for food particles to become trapped there. Getting a fissure sealant is a simple process with no pain involved, so your children will have no fear about having the fissure sealant placed. If we think that it is appropriate for your child, we'll let you know at their routine checkup.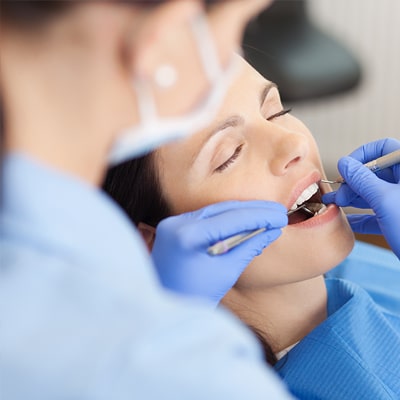 Extra Protection for the Molars of Our Young Patients
There's a good reason that fissure sealants cover your molars. The back teeth have deep grooves where it's easy for bacteria and plaque to gather and make the acids that result in decay. A dental sealant may prevent the acids from building on the surface of the teeth, which means that decay is less likely to occur.
The best time to receive fissure sealants is directly after adult teeth erupt, which generally happens around age 13. We'll be happy to discuss whether fissure sealants are appropriate for your child.
Managing Your Child's Oral Health

Fissure sealants are only a part of an effective management plan for good oral health. It's essential that we work with your child to teach them how to care for their teeth and gums with brushing and flossing. Additionally, a fluoride treatment may be beneficial for your child.
The Process of Receiving a Fissure Sealant

The first step of receiving fissure sealants involves a thorough cleaning and drying of the tooth. A liquid version of the sealant is applied to the tooth's surface, which can then easily flow into the grooves. The liquid is set into a solid with an ultraviolet light, sealing the tooth and leaving it smooth and easily cleaned. The entire process will be completed in just minutes, so your child won't need to sit still for long.
Schedule an Appointment Today
We offer same-day visits and late opening hours that work around your child's school schedule. Contact our friendly, caring today to book a time for fissure sealants Brighton! We're providers with Medibank, HCF and MDF. You can claim your health fund rebate on the spot with our HICAPS machine.
* Any invasive or surgical procedure may carry risks. Before moving forward, it is recommended that you seek a second opinion from an appropriately licensed medical professional.
Make an Appointment Today