Restore Your Smile with Implants
Are you missing a single tooth, multiple teeth or all of your teeth? Suffering from tooth loss affects your self-esteem, appearance and even your ability to eat, speak or chew as you want. At Brighton Dental Suite, our experienced, caring dentists offer dental implants to restore your smile, bite function and confidence.
Rejuvenate Your Beautiful Smile
Dental implants offer an alternative to dental bridges and dentures with a more comprehensive solution that replaces the tooth and tooth root. Implants boast many advantages:
A permanent, stable solution that will last a lifetime with proper care
Biocompatibility with your jawbone
Improvement in comfort and speech patterns
Prevention of bone loss
Protection for your surrounding teeth without needing to damage them
Stable, reliable and give your teeth their full function
The look of a natural tooth
Dental implants have become the gold standard in tooth replacement for these many reasons.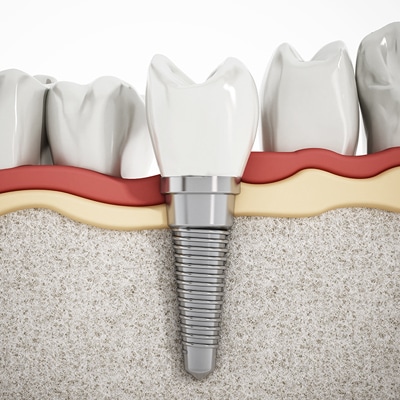 What to Expect During the Dental Implant Procedure
The first step is to have a consultation with our team. We'll sit down, examine your mouth and discuss what solution is best for you. When you and your dentist have determined that dental implants are the most suitable solution for your situation, we'll begin by placing a small titanium implant into the jawbone where the tooth is missing.
After 3-6 months, the area has healed and fused with the jawbone. Then, a dental crown, dental bridge or denture can be placed on the implant to complete the procedure.
Single, Multiple or Complete Replacement for Your Teeth
You may only have a single tooth missing. Or you might be missing multiple teeth or all of your natural teeth. Different types of tooth loss can be solved with dental implants:
Single. Only one dental implant is needed. Once placed and healed, a crown is created with our E4D same-day crown technology to complete your high-quality restoration quickly.
Multiple. A bridge or partial denture can be attached to a dental implant. Our recommendations will depend on your particular situation and your preferences.
Complete. A total of 4-6 implants can be placed in the gums with a full denture affixed to them, completely restoring your smile with a stable and secure feel.
Caring for Your Dental Implants

A dental implant should be brushed and flossed just like regular teeth. Though it isn't a natural tooth, the surrounding gum can still be subject to gum disease if not properly cared for. You won't have to worry about removing your dental implants, applying adhesives or giving them a special cleaning at night. They're incredibly easy to care for and won't compromise the health of your other teeth.
Use Your Health Fund or Arrange a Payment Plan
We're committed to helping you achieve the smile you want. Experience high-quality dental care with our friendly, compassionate team. Contact us today by phone or email to schedule an initial appointment for dental implants Brighton! Payment plans through zipMoney are available.
* Any invasive or surgical procedure may carry risks. Before moving forward, it is recommended that you seek a second opinion from an appropriately licensed medical professional.
Make an Appointment Today