Custom Mouthguards Brighton
Protect Your Teeth with Custom Mouthguards
At Brighton Dental Suite, we talk to our patients about the importance of preventing dental problems. At your routine checkups, we'll discuss recommendations for products or techniques that we think can assist you in improving or maintaining your oral health. Our mouthguards can be used for sport or to protect your teeth from damage due to grinding and clenching at night.
Keeping Your Teeth Healthy
Though the teeth are incredibly strong, they're not indestructible. In certain situations, they can be damaged, resulting in costly, time-consuming restoration. Trauma from playing sports or grinding and clenching at night are two common reasons that your oral health can be compromised.
We create mouthguards for sport and nightguards for night grinding and clenching that will protect your teeth. They're fabricated on-site with our advanced ED4 machine. Generally, two days are required to manufacture them, though in an emergency they can be made overnight.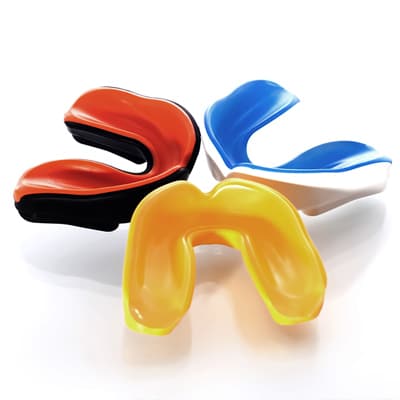 Protecting Your Teeth From Grinding and Clenching
Many people aren't aware that they're damaging their teeth while they sleep. You may have had your partner tell you that you grind your teeth at night. Perhaps you wake up with headaches or jaw pain. Both are signs that you likely grind or clench. It can cause serious problems to ignore grinding and clenching. Your teeth will eventually wear down, which can mean that you need more complex and expensive dental work in the future.
If you suspect that you may be grinding or clenching, the symptoms you'll experience include
Clicking or popping in the jaw
Difficulty chewing
Ear pain
Face pain
Headaches, particularly upon waking
Jaw pain
Locking of the jaw joint
Tenderness in the jaw
By wearing a custom-created nightguard, you'll have the protection you need at night and prevent wear and tear on your teeth.
Safely Participating in Sport
Contact sports such as football, cricket, basketball, gymnastics and volleyball can result in injury to the mouth and teeth. Even non-contact sports can surprise you and cause an injury to the jaw or mouth. While it may tempting to purchase an over-the-counter mouthguard, these don't provide a high level of protection and tend to shift in the mouth.
With a customised mouthguard, you can rest assured that you or your child will be protected while participating in the desired activities. This simple appointment involves taking impressions of your teeth. These impressions are then used in our advanced ED4 machine to fabricate your custom mouthguards Brighton.
Since we can create your sports mouthguard in clinic, you can get it in just two days rather than waiting a week or two while an outside laboratory creates it. You can have it made in your favourite colour or the colours of your team for a fun touch.
Preserve Your Gorgeous Smile
Contact us today to schedule an appointment! Your custom-fitted mouthguard will help to safeguard your pearly whites while you enjoy your favourite sport. Our mouthguards also can help you make sure that your teeth last for a lifetime.
You can claim your rebate on the spot with our HICAPS machine, and we're preferred providers for HCF.
* Any invasive or surgical procedure may carry risks. Before moving forward, it is recommended that you seek a second opinion from an appropriately licensed medical professional.
Make an Appointment Today