Straighter Smile with Brighton Dental
If you or your child would like to have a beautiful smile that's properly aligned, you can achieve the results you want with trusted traditional metal braces. They're not just a budget-friendly orthodontic option; they can provide fantastic outcomes in short treatment times. At Brighton Dental Suite, we can provide tried and tested braces that will get you optimum results.
Suitable for Adults and Teens
When compared to other forms of orthodontic treatment, traditional braces are generally the most cost-effective option. Additionally, they can correct a wide range of orthodontic concerns, though certain issues may take longer to treat than others. It is ideal for families who have children that need to have orthodontic correction or anyone else who is seeking a way to address their teeth without breaking the bank.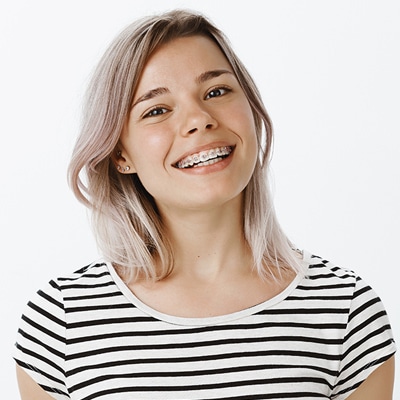 The Treatment Process for Braces
There are different stages involved in traditional braces:
Initial alignment of your teeth
The closure of gaps between teeth
Alignment of your jaws
The final detailing
Over time, you'll notice that your teeth are being gently guided into their new position using the wiring and metal brackets. Each step of the process will be discussed with you in full so that you can begin treatment feeling informed.
During your consultation, you'll have a thorough assessment done of your jaw alignment and teeth placement. Afterwards, we can create a treatment plan and give you an estimation of your total treatment time.
Looking After Your Braces

Food can be easily caught in the metal brackets of your braces. You must be sure to care for them meticulously so that particles don't become lodged in them. Brushing and flossing should be done at least twice daily. A gentle hand is necessary so that the brackets aren't compromised. Brushing should be done after each meal to prevent food from discolouring your teeth.
We offer payment plans through zipMoney and participate with smile.com.au. Contact us today to schedule an evaluation for traditional braces Brighton!
Make an Appointment Today